Join us for an insightful presentation on where employers are seeing the biggest gaps in the workplace, potential solutions for closing them, and how L&D help!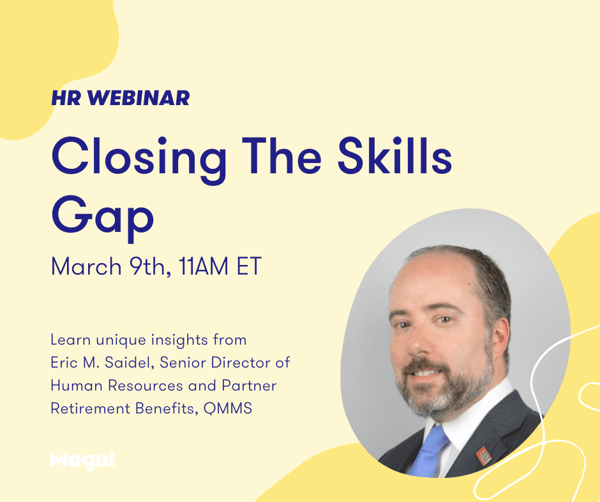 AGENDA
11:00am Welcome
Rhonda Martinez, Head of Executive Search, Mogul

11:05am Presentation
Eric M. Saidel, Senior Director of Human Resources and Partner Retirement Benefits, QMMS

11:40am Q&A & Discussion

11:55am Close
----------------------------
Speaker bio:
Eric M. Saidel, JD, SHRM-SCP, SPHR, is the Senior Director of Human Resources and Partner Retirement Benefits for QMMS USA, LLC ("QMMS"), an affiliate of ENT andAllergy Associates, LLP ("ENTA"). Mr. Saidel earned a Bachelor of Sciences degree inIndustrial and Labor Relations from Cornell University and his J.D. from the BenjaminN. Cardozo School of Law at Yeshiva University. He practiced law for almost a decade in Westchester County, NY, including three years as a partner at Saidel and Saidel, PC in Yorktown Heights, NY. Following his successful legal career, Mr. Saidel changed pathways and began working as a Consultant at, and then Director of Human Resources for, Easton Associates, LLC ("EA"), providing business strategy consulting for pharmaceutical, medical device, biotech, and venture capital companies in North America, Western Europe, and Asia.
After EA was acquired by Navigant Consulting in 2012, Mr. Saidel joined ENTA, which is the largest Ear, Nose, Throat and Allergy practice in the United States, with over 200 physicians seeing over 90,000 patients per month in more than 45 clinical locations throughout theNew York and New Jersey Metropolitan Area. In 2020, ENTA split its administrative functions off and rebranded them as QMMS.
In his role as Senior Director, Mr. Saidel oversees a team of 9 professionals who handle all aspects of Human Resources including, but not limited to, Employee Relations, Benefits, Payroll, Talent Management, Training and Professional Development, and HR Strategy for QMMSand ENTA. Mr. Saidel also sits on the practice's Retirement Plan Committee and itsCommittee on Diversity and Respect. Mr. Saidel served as Co-Chair of the Healthcare Business Sector for the Westchester Putnam Workforce Development Board and is directly involved with several Workforce Development programs in the New York Metropolitan Area.

Registration for this event is now closed
JOIN US ON THURSDAY, MARCH 25TH FOR OUR NEXT MOGUL HR SOCIAL! early rsvp is NOW open here